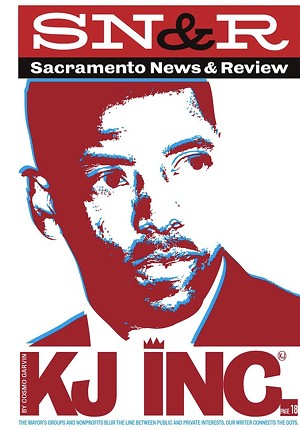 It's been a damning 24 hours for K.J.
First, the scathing HBO Real Sports episode on his alleged sexual misconduct with underage girls. And now, 14 black mayors from all over the country are threatening to sue Mayor Kevin Johnson and also the city of Sacramento.
Yesterday, a law firm filed a claim with the city clerk stating that the mayors—in their capacity as board members of the National Conference of Black Mayors—intend to sue the city and Johnson for defamation and interfering in NCBM business contracts (see below).
Specifically, the mayors claim that Johnson, his staff and volunteers from his Stand Up education nonprofit coordinated a smear campaign against the NCBM board. The claim also states that mayoral staffers and volunteers unlawfully obtained NCBM banking records and worked to quash NCBM contracts. These events took place in 2013 and 2014.
"[Johnson's] put a cloud over the name of all the board members," attorney Kenneth Mohammad told SN&R. "It really has had an impact on the mayors in real ways."
The claim accuses both staff on city payroll—including press secretary Ben Sosenko and senior adviser Cassandra Jennings—and volunteers with his education nonprofit—such as Aisha Lowe and Tracy Stigler—of colluding to discredit the Georgia-based NCBM board and terminate executive director Vanessa Williams.
Muhammad also said that Williams plans to file her own claim against the city in the coming week. Any claim must be filed 30 days in advance of litigation.
Johnson was president of NCBM when the group filed for Chapter 7 bankruptcy in 2013. He later formed his own black mayors group, the African American Mayors Association, and hired Stephanie Mash, a former city employee in the mayors office, to be its executive director. The NCBM board members, however, are challenging this move in court. A judge may rule on this later in the summer.
Look for more on Johnson's legal troubles with NCBM in next week's SN&R.