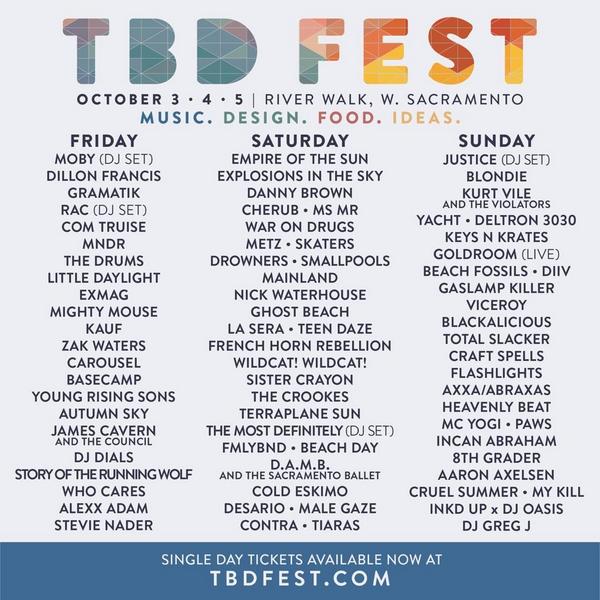 The hotly anticipated TBD Festival released its day-by-day schedule along with a single-day ticket option earlier today.
Formerly known as Launch, TBD will be a three-day music and culture festival in West Sacramento, taking place Oct. 3-5. General admission passes are going for $159 and single-day tickets run $69 apiece.
Moby, Dillon Francis, Gramatik and Rac kick things off Friday. Saturday will see the likes of Empire of the Sun, Explosions in the Sky, Danny Brown, Cherub, MS MR and War on Drugs. Sunday concludes with Justice, Blondie, Kurt Vile & The Violators, Yacht and Deltron 3030. And others, of course.
[Update 9/6] Three local rappers—Century Got Bars, Task1ne and Defeye—aren't on the above graphic, but we've been assured that they are, in fact, performing and the day-by-day schedule will get updated soon. Human error happens.
Macaulay Culkin's pizza-themed Velvet Underground tribute band Pizza Underground, however, is definitely no longer playing. Fans of the child star must be truly distraught.
But like other major music festivals, TBD boasts plenty beyond sounds. Yogis should take note of morning yoga classes on the main stage on Saturday and Sunday at 10 a.m. Mindful hip-hop star MC Yogi is one of Saturday's instructors, and there will also be a "playground" dedicated to hooping, slacklining and acroyoga at the festival.
And, because this is Sacramento, TBD will also emphasize food. An area called The Pit will feature wood-fired cooking demonstrations and competitions from 14 local chefs, including Michael Tuohy of Lowbrau and Block Butcher Bar, Michael Thiemann and Matt Masera of Mother, Oliver Ridgeway of Grange and Brian Minzer of Hook & Ladder Manufacturing Co.
Look for more TBD Fest coverage as October approaches. In the mean time, check out those ticket options here.