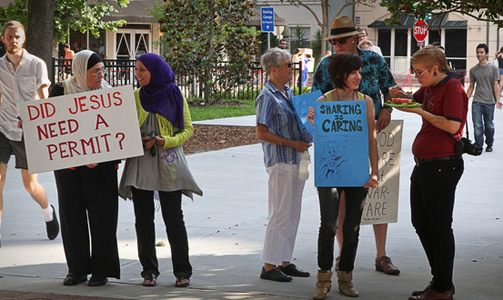 For more than 20 years, unpaid volunteers with nonprofit Food Not Bombs have given free vegetarian meals to hungry Sacramentans on Sunday afternoons in downtown's Cesar Chavez park.
This past Sunday, however, city police told them that they were breaking the law.
Volunteer Ani Durst said she and five others arrived at the park like Food Not Bombs usually does each Sunday at , when the nonprofit feeds up to 100 people.
"We started to set up the tables, and then a police officer on a bicycle told us we couldn't serve food on that day," she told SN&R.
Durst says the officer explained that the city was "drafting an ordinance" that would ban feeding of low-income and homeless people in public parks.
Police—which included at least seven on bicycle, multiple vehicles, a patrol wagon, supervisors, and one officer videotaping—said they would confiscate Food Not Bombs' meals and equipment if the unpaid volunteers tried to serve.
Officers distributed fliers about safe-food-handling practices as the volunteers exited the park and set up on the other side of Tenth Street. Volunteers say that individuals who received meals and tried to take them back into the park were told to leave Cesar Chavez.
"We didn't want to have a confrontation at that time, because we didn't know enough about what they were talking about," Durst said.
This coming Sunday, however, there may be a fight.
The debate will be over whether it's legal in Sacramento to give away food to the poor. Food Not Bombs plans to return this Sunday, October 13, and share food with those in need, like they always do.
"You can't require a permit for an organization that is performing a religious function or is political and is doing something that is consistent with its political expression," argued local civil rights attorney Mark Merin, who met with local Food Not Bombs volunteers this week. "This attempt to stop something that's been going on in Sacramento for 20 years will fail."
Merin said he has notified city leaders that, if they try to stop Food Not Bombs this Sunday, he will "sue to block continued harassment."
City police spokesman Doug Morse told SN&R that "nothing was shut down or removed" last Sunday and those officers simply were there to educate and hand out fliers about feedings. There were no detainees or arrests.
Morse did add that "there was sort of an Occupy thing going on down there" at Cesar Chavez this past Sunday.
But volunteer Durst says it was apparent that police and the city were focused on getting Food Not Bombs out of Cesar Chavez. "They were obviously trying to get the whole operation moved out of there," she said, adding that a police officer suggested the move the feedings to "near Loaves & Fishes."
There is precedent for city action against these type of public feedings: A recent June 11, 2013 memo from the city parks and recreation department (with the subject line "Off Agenda Report on 'Homeless Feedings' in City Parks," submitted in response to an inquiry by central city Councilman Steve Hansen) said that the city would be focusing on unpermitted feedings that violate by nonprofits and religious groups that violate city and county-health codes.
Meanwhile, Food Not Bombs co-founder Keith Henry told SN&R that chapters in other cities—including Olympia, Wash.; Santa Monica, Calif., and Taos, New Mexico—experienced similar law-enforcement threats this past week.
This on the heels of threats against FNB volunteers in Boulder, Portland, Seattle, Raleigh and other cities this summer, he said.
"It's very rare that it's all the same weekend," he explained, adding that FNB's ties to the Occupy movement could be a factor.
The co-founder also pointed out that it's an odd time to be going after people who are feeding the poor, what with government-shutdown cuts to food stamps and the stoppage of the WIC program for low-income woman and children.
SN&R has calls in to both the city and county for this story and will be updating online and in next Thursday's SN&R.